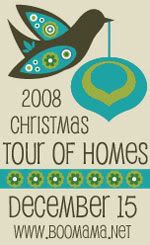 If this is your first visit, WELCOME! One of the best things that happened to me in 2008 was discovering Boo Mama's blog, so I am thrilled to be participating in the tour for the first time. If you're one of my (two?) regular readers, be sure to click on the button above, and head over to Boo Mama's to visit more bloggers' homes, but only after you've hung around here a while!
This Hoosier cabinet in my kitchen is one of my favorite things, filled with a few of my other favorite things.
This corner, under our kitchen TV, is not one of my favorite things because of the lovely black cords that hang down. Perhaps I should have painted them red or green to make them more festive.
This cool feather tree sits on a table in the middle of my kitchen.
Just inside the front door is a little saltbox village, one of my favorite new things.
And my other favorite furniture thing, which is red all year. The three angels on top are so cute with their brillo pad hair, and they came from the Wal Marts of all places, a few years back.
I love, love, love these cute little packages wrapped in vintage paper.
No, seriously, this is my favorite thing: the Jim Shore nativity my husband gave me two years ago. Most of the Santas in the Hoosier cabinet above are by Jim Shore too. Now that I think about it, it's maybe kind of strange that the Holy Family is being watched over by a vintage cookie cutter garland.
Last, and maybe least, is a banner that I made on the spur of the moment from scrapbooking paper. It hangs in what used to be our dining room and now houses my kids' homework desk and my 10-year-old daughter's Important Stuff, otherwise known as every blessed piece of paper ever to pass through her hands. Note that I did not photograph that. It is not festive.
Naturally I've got more photos, including one of our fairly run-of-the-mill Christmas tree, but I don't want to keep you too long. I so hope you'll come by again. I'm making Cracker Candy tonight, and if you've never tried it, you can't imagine how delicious this simple recipe is.
Cracker Candy
1 c. sugar
1 c. butter
12 oz. semi-sweet chocolate chips
chopped nuts
saltine crackers
Line a jelly roll pan with foil. Arrange 40 saltine crackers in a single layer.
Bring sugar and butter to boil and cook 3 minutes, stirring constantly. Pour over crackers and spread with a spoon. Bake at 450 degrees for about 5 minutes. Watch closely to make sure it does not burn. Remove from oven and sprinkle on chocolate chips. Let stand to melt. Sprinkle on nuts, if desired. Spread and refrigerate. Break apart and serve.
Merry Christmas!