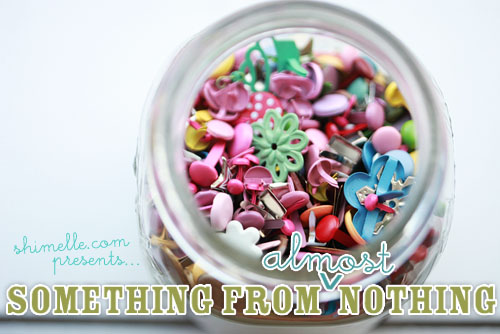 After hearing many rave reviews, I finally signed up for one of Shimelle Laine's online classes. Let's just say the topic spoke to me. I am HIGHLY qualified for this particular class, whose goal is to get us to actually use the stash of supplies we've been hoarding. The first "assignment" was to think and journal about why we purchased those supplies and why we haven't used them yet. The simple answer, for me, is that it's often much easier to find inspiration to shop than to sit down and create. I have been realizing lately that the actual scrapping part was simpler in the days when all of my supplies fit neatly into my Crop-In-Style XXL bag. Don't get me wrong, though--I love my stuff.
In the past couple of years I have become better about not buying every embellishment in a line, so the bulk of my embellishment stash is several years old. Compared to paper and cardstock, these little items don't take up a huge amount of space, so I am less ruthless about purging them. There are an awful lot of them, though... this drawer alone contains three layers of these storage boxes.
And then there are a few jars.
And a couple of Clip-It-Ups. And if I must be perfectly honest, that chest over there on the left is full too.
I can't wait to get started!